The Blacksmith & Shop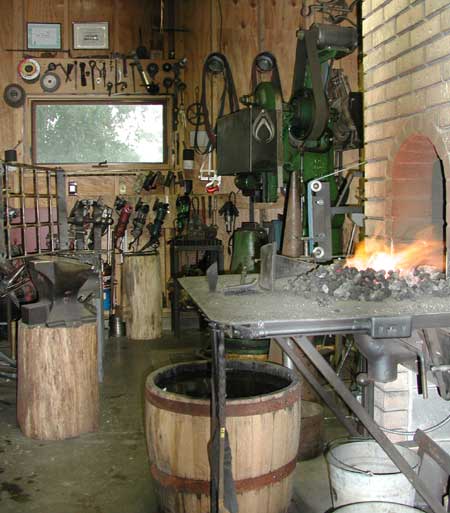 The anvil is a German made August Refflinghaus Anvil style #58. It is 130 kg or 280 pounds. It is fastened to an American Elm stump. It is soft at RC52, therefore it has been replaced with a Ernst Refflinghaus anvil of 150 kg or 330 lb. style #58 (same style) with an RC of 59. This style anvil is my favorite. It has one flat topped and tapered horn, a side shelf, an upsetting block, and a feathered transition from the main face to the round horn (no drop).
The trip hammer is one of 2 rebuilt 50 pound Little Giants. The one in the picture is a 1902 model .
The forge chimney is double wall brick, , 34 ft. tall, 11 inch (inside) sq. clay flu liner, and works so well that very seldom is there smoke in the room. The chimney smoke inlet tapers from 15" wide (next to the firepot) to 11" wide at the chimney side of the brick (6" away from the fire pot). The inlet opening is arch topped and is 18" high. Therefore there are 185 sq. in. of smoke inlet opening (1 1/2 X area of chimney flue opening).
The forge table is 1/8 inch aluminum diamond plate and gets darned hot to the touch when in use (next time I'll cover it with brick like the student forges. and might use iron instead of aluminum. The top of the firepot and the floor of the chimney are flush with the table top.
The firepot is a Centaur Vulcan which I have to replace every few years (I will get a thicker firepot next time I redo my forge).
The forge blower is the Centaur Forge, # PB50VS, (www.centaurforge.com/) and is one of the few blowers I've used that is I feel is satisfactory for the kind of forging I do.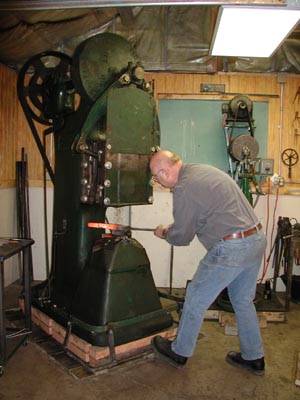 Dick and 250 lb. Little Giant Trip Hammer (it has since been sold)